Discover more from False Summits
Adventures in Digital Transformation
Amazing Customer Service
I just had the best customer service experience of my life. Seriously, this was one of those moments that you read about that sounds like someone made it up. I just had to write about this because it is so full of business lessons regardless of your business model.
First a little background. I bought a new car last month and proceeded to do a little research on how to best take care of it. Those of you who know me, know I'm a little particular about my car. This started years ago when I was a consultant in Southern California and I spent way too much time driving to clients all over SoCal. When you spend that much time in a space, it might as well be enjoyable, right? So since then I have been pretty particular about the interior of my car. I did some web searches and found that there is a whole tribe of car neat freaks like me and a lot of them were raving about products from Adam's Polishes. This past weekend I spent way too much time reading forum posts, watching the great instructional video's they produce, and making a shopping list.
Adam's is right in my backyard here in Colorado. I stopped by there this morning on my way home from a meeting just on a whim. When I walked into the shop, I saw the owner Adam Pitale on the phone in the office  (I recognized him from the videos). While I was picking the products from my shopping list off the shelves, Adam leans over covering the phone and says, "hold on a minute, I want to hang out with you". I'm thinking, this is really cool, who else could answer my questions better!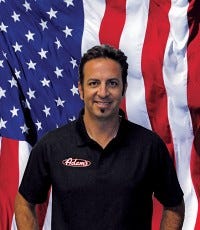 Adam Pitale
I told Adam all about my new car and its mixture of leather, faux leather, plastic, etc. and what I thought I needed to take care of it. He's listened and nodded, and sometimes made alternative suggestions. Finally he says, "wait a minute, I'll be right back." He comes back with a bottle of some green potion they have just whipped up. He tells me it is a new formula they are trying out, that is better than the old stuff and that I can replace all the other products I was going to use. Hold the phone… This guy just gave me a prototype product and talked me out of buying two others!
Then he said, "have you been here before, have you had the tour?" Now I'm really curious. I say no and he takes me into the shop showing me around talking about the workflow, and introducing me to a few people working there. He tells me seven of the staff are out helping setup a new distribution center in Nevada and they are short handed today. They are short handed and he's taking the time to show me around and answer my questions. This is different.
So at this point I'm thinking, I really like this guy and I'm totally impressed with the customer experience I am having. I ask Adam about how they do all the chemistry. He tells me he's not a chemist, he's a detailer who started in his teens, but that they have a lot of chemists they work with. Adam uses the products they make everyday himself (dog fooding). On his own car and as far as I can tell, on any car he can get his hands on, because before I know it, we are standing in front of my car in the parking lot! Adam is describing all the great properties of the new super green stuff he gave me and he is personally showing me how to use the product on my car.
He tells me that chemists are typically constrained by price. Their other customers want to hit a certain price point and they do they best they can to create the properties the customer wants at that price point. Adam uses different parameters. He tells the chemist the properties he wants in the product (easier to apply, works well in the sun, UV protection, etc.) and then says he wants the best formula they can make regardless of cost. He and his team use that formula and assess how well it meets the criteria they had for the product, then go back to the chemist with comments and requests to make changes to improve whatever is not up to their standards. It's like iterative development for car care chemicals. There is even the equivalent of a beta testing phase with customers like me. I'm not the only one getting pre-released product to try and customer feedback is more grist for the mill.
They also do competitive analysis as well. If a customer says they really like product ABC, then Adam buys some ABC and uses it just like a customer would. He makes his own assessment of the properties he thinks are important and if he finds that the equivalent Adam's product is in second place, then his product is going to be redeveloped. Adam tells me that second place is not acceptable and that the famous 110% guarantee would quickly financially kill them if they had a second place product that customers wanted their money back on. So the man puts his money where his mouth is.
I can tell from the forums that Adam's is constantly replacing and upgrading products. People seem to be wondering why they keep changing stuff that is already amazing and I now know the answer. They are always looking for ways to make things easier, faster, and better regardless of whether anyone else thinks they are great as is. They have a relentless passion for excellence at Adam's.
Adam listens to me talk about my plan for the exterior paint and convinces me that a combination of two of their products will be totally sufficient for what I am trying to accomplish versus the 5 products I thought I was going to need to use. Again, he's listening to customer requirements and using his considerable experience to save me time and money. I really like this guy, can you tell?
Want to kick it up another level? Adam always does. They are out-of-stock for a particular applicator I want, so Adam gives me his card and says, "call me next week, and when they are in I'll bring one by your house!" I'm never going to take him up on that offer both because it is way too generous, and because I really want to come back!
When I asked who the typical customers are, Adam told me they have 83,000 customers in their database and most of them are people like me who want to take care of their cars but don't have a lot of time on their hands. I was expecting a bunch of professional detailers and exotic car collectors but apparently they make up only about 1%. So he knows his customer, and builds products for their needs.
So you have to wonder why Adam does it. I can only speculate, but he seems to genuinely love talking to customers and he obviously understands the incredible value this kind of customer service creates. This is clearly cultural at Adam's, not some infrequent event. It was remarkable enough for me to take the time to write about it and share it with my readers and friends.
I will no doubt use the story over and over again in my work. Imagine the marketing leverage created by word-of-mouth referrals through that kind of amazing customer service. I'm not saying that every one of those 83,000 customers got the same royal treatment by the man himself, but he didn't know me from Adam (sorry, I couldn't resist that pun) and yet he dropped everything on a busy day and did everything he could to create an incredible customer experience. People on the Adam's Forums rave about hundreds of other ways the crew at Adam's went way beyond just making great products. Can you imagine what the Customer Lifetime Value (CLV) is for Adam's customers? I'm guessing it's a pretty big number.
I'm thrilled to be customer 83,001 and I doubt if any other company making car care chemicals could ever win my business away.
Thanks Adam, you made my day.